Users with queue manager rights are able to see and manage on going calls through the Q-Manager view. Q-Manager view can be accessed through the softphone by clicking on the highlighted icon.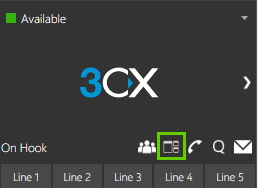 Depending on the rights given for your extension, you can see which agents are logged in for each queue, along with their status and statistics such as calls answered, last log in/out and total talk time. Queue managers will be able to log agents in and out of the queue by right clicking on the agent.
You can also see overall statistics for all your queues such as calls in waiting, serviced or abandoned, longest and average waiting time, and average talking.
When you have an incoming queue call you will see the call in the active calls list. Once the call has been answered, you can drag and drop the call to transfer the call or right click on it to:
Barge in to the call
Listen to the call 
Whisper to the agent (caller will not hear this)
Transfer the call to another extension
Conference
Drop it
Record it for later use